Ai My
종현 ☆ A d m i n ·•●oO






Date d'inscription

: 03/02/2010


Age

: 24


Sujet: [Scans] Inkigayo Magasine June Edition Mer 14 Juil - 23:00

---

Spoiler:

Citation :

JongHyun


Music (study) - Since [playing] music is what I do, a huge part [of me] thinks about music everyday!
CNBLUE - Since I am CNBLUE, thinking about the other members is a given! And because I see them all day long?
Songwriting - Also one of my dreams is to write a song!
Guitar (Practice) - Maybe because I hold onto a guitar all day long, it never leaves my mind.
Song (Practice) - If I want to become a serious singer/songwriter, I must sing well also
Dreams - Everything in the end is to fulfill my dreams! And also because I believe that a person must have dreams! *dreams=goals*
Need to fix my accent - My accent-intacted speech must be fixed.
I want to exercise - I really want to exercise. I want to do judo and every exercise, all!
Ja(p)-Dra (Japanese Drama) - Many inspirations come to mind when I watch dramas. Also going to study Japanese! *not "Earned"*
Movies - To prevent things like feeling no emotions/cold-heartedness
Performances - I am most happy when I perform!
Study English - Even though its late, I am studying hard
I want to go to Busan - I really want to go. There are so many people I want to see! Family, friends, teachers.
I want to eat dwehgigukbap – This is really the best! *pork soup*

Le cerveau de Jonghyun : http://img215.imageshack.us/img215/2453/inkigayomagzjhbrain.jpg

Citation :

Yonghwa


7.31 First concert in Korea (Important!) – The date of our first concert in Korea. All day long, I only think about the concert!
Guitar practice, singing practice – Recently because of my schedules, I think its been a long time since I've practiced.
It would be great if it rained - I like the days when it rains. When I can listen to the sound of the rain without any thought is when I'm the most happy.
We Got Married – My regular program that I always think about. It does not leave my mind.
What are the dongsengs thinking about? – As the oldest and the leader, naturally I think about my dongsengs.
Hand gestures, singing, guitar, face expression. Confusing – If even one goes awry, immediately its wrong. I have to constantly pay attention.
BOICE The best - BOICE, the fanclub that loves us
Hair, grow faster - I want to have longer hair than right now.
I need to write a song – I haven't been able to write any because of our schedules. I guess I'll have to take the time to write in our spare time.
Dancing is hard! - I like to dance but because I can't [dance well]!
Voice/Throat care and voice/throat treatment – Because of my voice nodules, I tend to pay a lot of attention to it.
Fear of variety shows - I'm scared because my turn might come.
MCing is becoming fun! – Its becoming more fun. Haha!
Parents, I love you – I love you

Le cerveau de Yonghwa : http://img197.imageshack.us/img197/8122/yhbrain.jpg

Spoiler:

Désolée, je n'ai pas trouvé la traduction anglaise de celle de Minhyuk et Jungshin ><

A flower in the spring, fallen leave in the fall, that is the paradise.
The sun I see only sits in dark space lighting up my world.
Miaouss483
The Supreme Cat






Date d'inscription

: 19/07/2010


Age

: 28


Localisation

: Hauts-de-Seine


Emploi/loisirs

: Fangirliser


Sujet: Re: [Scans] Inkigayo Magasine June Edition Mar 12 Oct - 8:51

---
mimi-chibi
Boice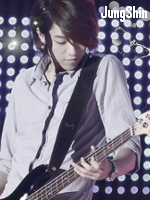 Date d'inscription

: 14/02/2010


Age

: 25


Localisation

: GeekLand (a)


Emploi/loisirs

: Lycéenne / Bricoleuse / Tranlator 8D


Sujet: Re: [Scans] Inkigayo Magasine June Edition Mar 12 Oct - 9:20

---

Merci Emy =DD
C'est déjà très bien que t'es trouvé la trad pour YH et JongHyun ^^
J'aime bien leur façon de penser,on voit qu'ils sont à fond (bon y'a pas assez de place pour les Boice mais bon XDD)
Les photos sont très belles,encore Min avec son sourire sur le côté,j'adore ! /o/

Do you know it ? The CN Cake !

Spoiler:


Sungkyunkwan scandal & Mary Stayed Out All Night
Contenu sponsorisé

Sujet: Re: [Scans] Inkigayo Magasine June Edition

---